Frozen Food Online Products
Gourmet Cuisine Hong Kong has been in Hong Kong for more than ten years providing high-quality food  products to five star hotels and Michelin restaurants. In order to match their French image, we started an online shop website project. It is easier for customers to find the products they need.
In view of this, we provide a one-stop online shop function, which integrates computer network and business management professionals to design a simple and easy-to-use online business website for SMEs and merchants. The functions include: product management, inventory management, member management, PayPal payment, discount codes and other functions. We added powerful functions from appearance, image production, layout design, etc., to create a responsive web page, which amazed Lou Lou Food Market's customers.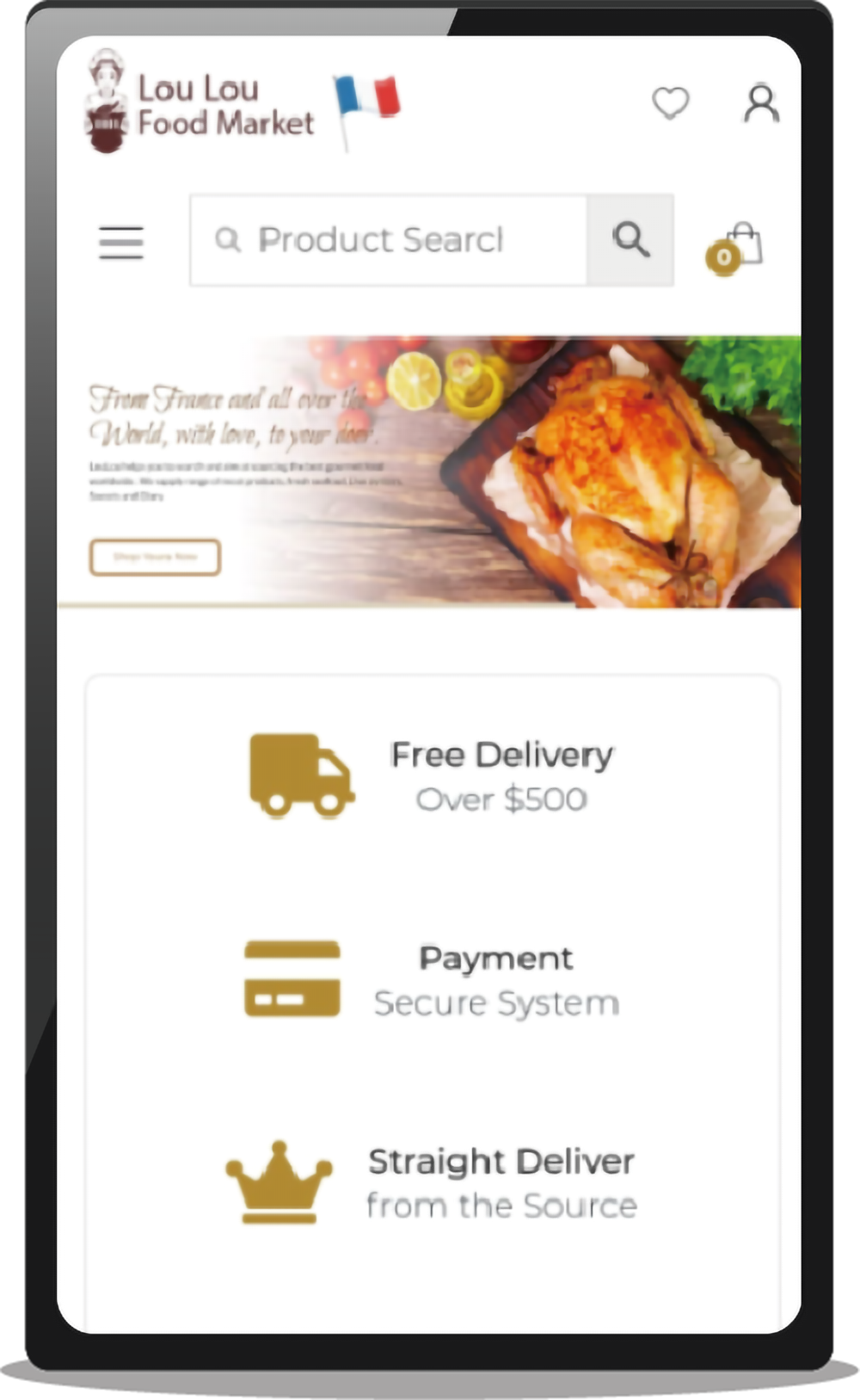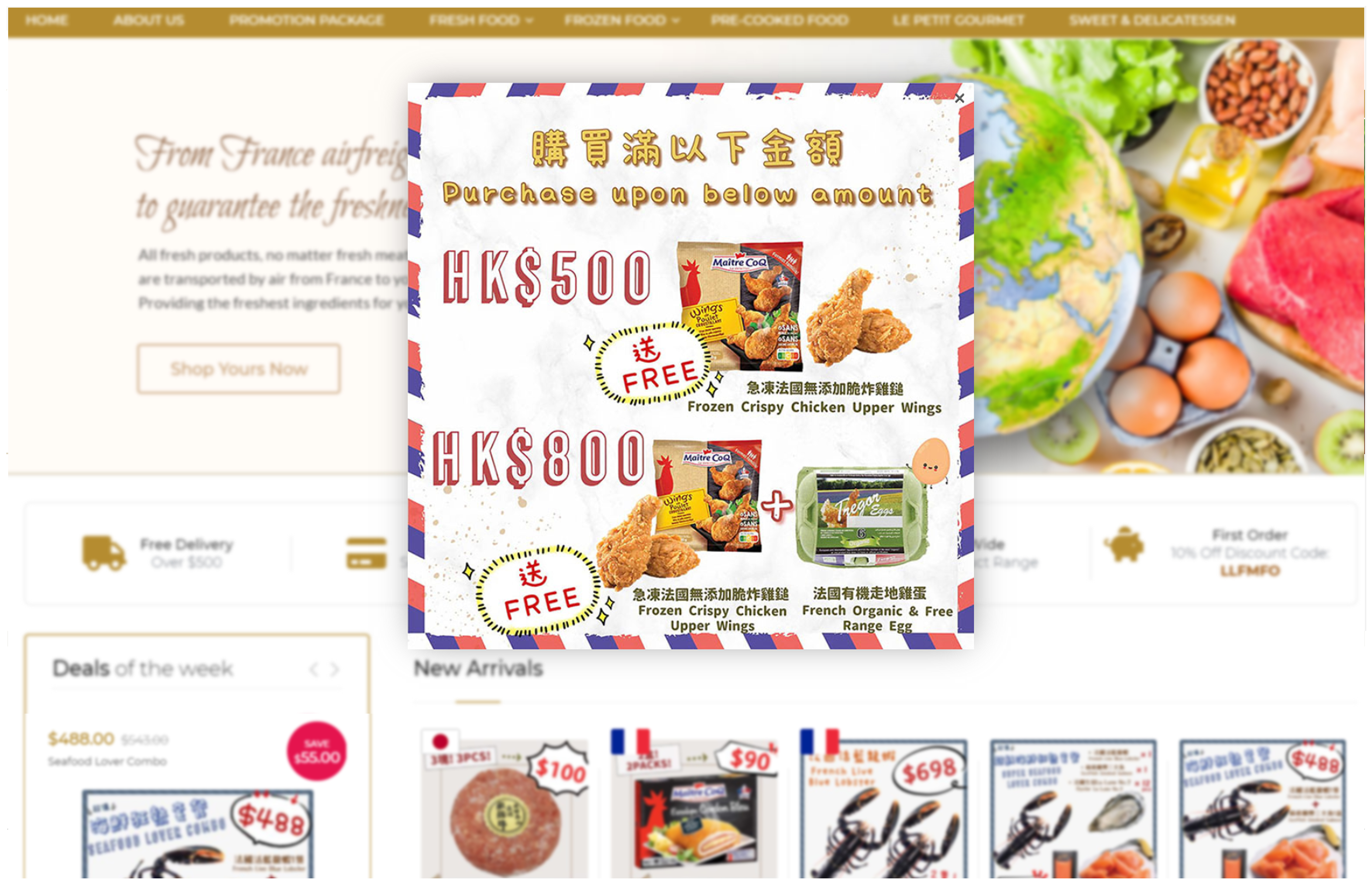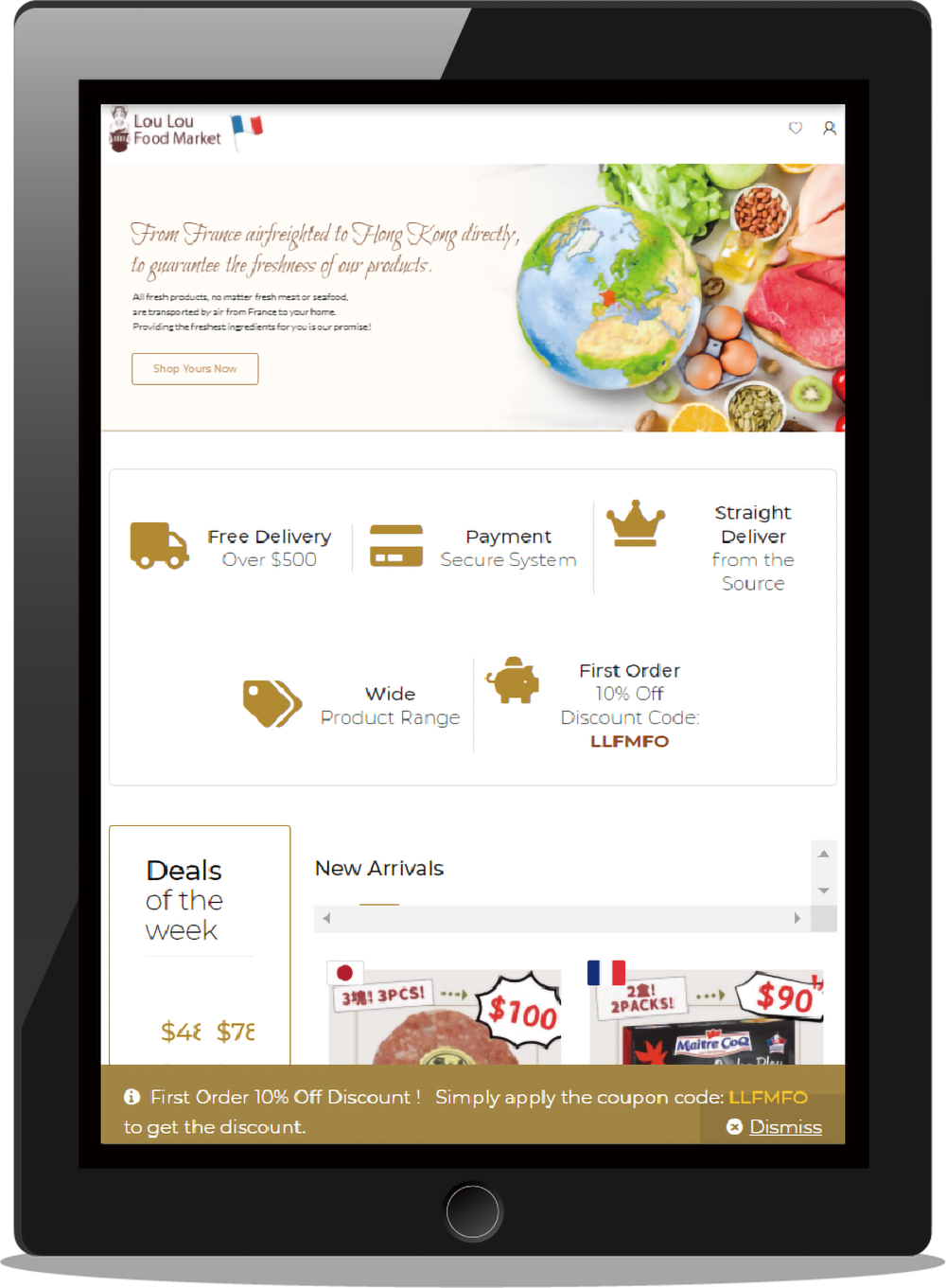 The solutions we provide:
International appearance design: We provide webpage banner design, product picture design, etc., to make the tone of the webpage consistent.
Quick search for food origin: Since they import high-quality products from different countries, in order to make customers know the origin of the product at a glance, in addition to displaying the national flag on each product photo, they can also search for favorite foods by origin or price range. 
The system automatically calculates the delivery date: each product can be preset with the required delivery date. The system function will exclude public holidays and weekends according to the preset, and calculate the expected delivery date, saving the time for manual calculation and sending notification to customers as in the past.
Provide different discount codes: you can set first order discounts or other limited-time discounts to attract new customers.
Convenient re-order function: Members can check past purchase records and re-order their past product list at any time.
Simple and easy-to-use inventory management: Inventory can be managed in the back end panel, products can be shown as sold out automatically or manually. This is simple and easy to use.
Pop-up pictures with promotional effects: In special festivals, in order to enhance the promotional effects, pop-up windows will be shown, so that customers will not miss any discount information.
Effective SEO optimization service: Search engines are optimized for content keywords, making it easier for the website to be found from online advertisements.
Optimization results:
After optimization, the website is beautiful and easy to use; the color matching is fresh; the corporate image is bright, and it is immediately appreciated and patronized by many corporate customers, such as restaurant and hotel customers.
The automation of the system reduces telephone response about delivery dates, etc.. This saves manpower and improves efficiency.
The system automatically generates invoices in Chinese or English according to the Chinese or English interface used by the customer when placing the order, eliminating the complicated work of manual preparation of delivery notes and invoices.
The product classification interface of the old website is messy and lacks filtering functions. It is difficult for customers to find the products they need. After redesigned by our experienced designers, not only can they easily search for goods, but also enjoy the visual effects of browsing.
Since Facebook Pixel has been installed on the website, after launching Facebook ads, the website can quickly obtain analytic data, understanding customer behaviors and the number of visitors, helping the promotion strategy at any time, and doubling the effectiveness of the ads.
After SEO optimization, the website can be easier found when searching for keywords on Google.