Hong Kong is facing a rapidly aging population. According to a survey by the Hong Kong Policy Research Institute, one out of every six people will be aged 65 or above. By 2034 The number will rise to 2.28 million. Despite the advanced medical care in Hong Kong, 22.8% of the elderly still have at least one impairment in activity, including cooking, handling housework, seeing a doctor, and taking transportation. Therefore, the SWD launched the third phase of the "Community Care Service Voucher for the Elderly" pilot project in October 2020, allowing eligible elders to use the community care service vouchers to select appropriate community care services to support their home-age care.
In line with the vision of innovative technology to improve the quality of life of citizens, we have developed a system to support the community to take care of the elderly, making it easy for the support center to deploy manpower, arrange service provision, and the elderly Family members can pre-consider the content of the service plan, such as rehabilitation exercises, doctor visits, nursing care and meals. The system stores the data of the elderly for a long time, which helps to easily find the data for reference. The mobile version of the application can also input treatment evaluation results, progress and other data and upload them to the server.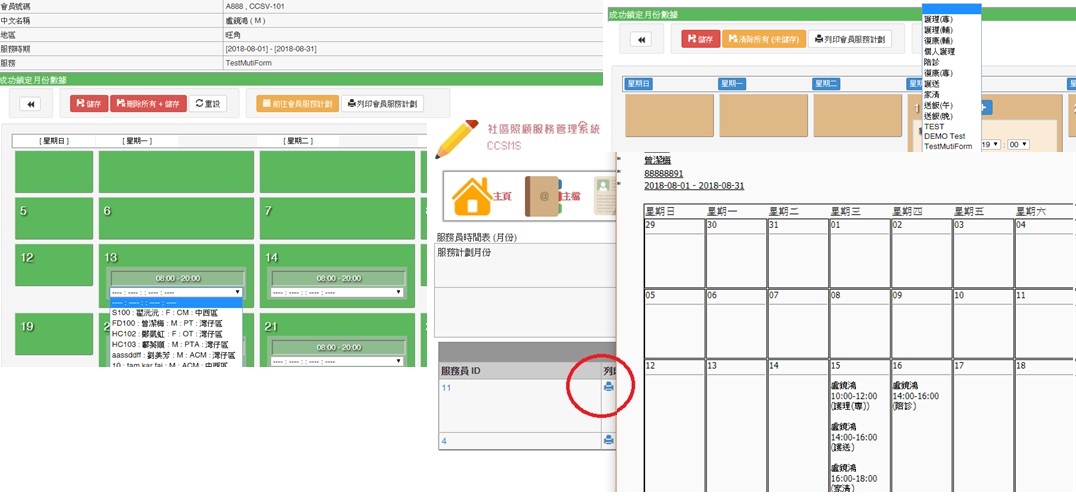 [Main Function]
Elderly information is detailed and data encryption is also provided to ensure all data security .

Electronic resume, which can save all the services received by the elderly for a long time Details and progress.

The system screens the waiters with the most matching criteria for manual deployment and arrangement of services.
provide monthly service schedule, official agreement, receipt, no need to use Excel, Word Repeated input, time-consuming and wrecked.

Complete accounts receivable records, unsettled invoice balances, support multiple payment methods, settlement and other accounting Features.

The same user can set different permissions to log in to different centers.

The mobile version can provide functional therapists, physical therapists, etc. to record the progress of treatment, which is convenient for remote anytime and anywhere Reference data.

A system for community care clinics for the elderly, in the future, through IoT data support to provide comfortable home services for the elderly.