Travel Enquiry Website
Website for providing travel supports and information in Japan
Viewers to travel websites have high expectations and this type of demand means constantly changing information is needed. Since visual viewers are naturally inclined to look at pictures instead of reading words, especially for travel experience, the website has easy to use photo galleries with big, beautiful pictures will make all the difference.
How does Marvel Solution make the difference?
From gathering initial information, to the creation of your web site, and finally supporting you to maintain your website, we have experienced Creative Designers, System Integrators as well as skillful Project Managers to be with you side by side.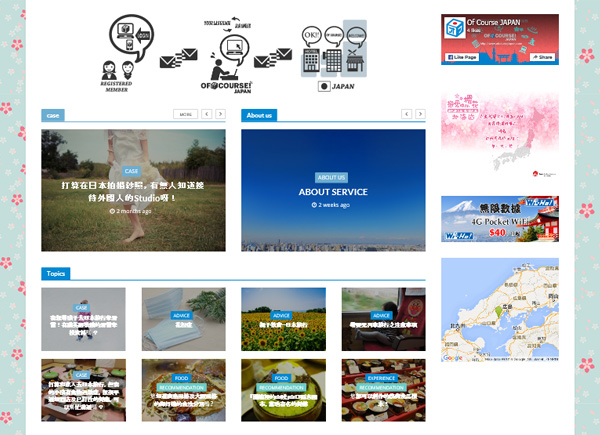 Step 1: Figure out your goals, work out the best sitemap with your business
Many users tend to look at a selection of website layout and features, and request website developers to create replicas for their websites. At the end, there's no clear picture for the whole project. How would your measure success from the viewership to your website? First things first, you have to figure out your goals of the website and consider what you are trying to accomplish because this is your website!
Step 2: Easy to find, read and understand your information
From your own experience, you may know how difficult it is to expect someone to read an entire page of information sequentially. Most of the visitors are likely to read the headline, the first few lines of test, so how will you deliver your information in a few seconds?
The benefit of copywriting is not simply to sound impressive, it also achieves specific business objectives. Good copywriters translate your thinking into words that your potential customers want to read, to be convinced of the value you are trying to propose.
Your message should include your target keywords, which will lead website visitors to you by Google search and online advertising after website launch. Of course, we are always your IT partner to offer advice for SEO competition and CPC competition.
Step 3: Not only use high-resolution images, represent your product or services with images
Seeing comes before words. The child looks and recognizes before it can speak" (Berger, Ways of Seeing, 1972).
A well-crafted image showcases the product/services at their best and customers may reckon that high-resolution images are sufficient to speak for their products; as a matter of fact, images should include business concepts, impress and stick to the viewers' brains.
How may we benefit from unleashing the power of images?
♦  We take a good image or video to show your viewers what to do instantly and take actions for the results they desire. (It affects how quickly viewers can find what they are looking for.
♦  We know that selling product / services on the internet is difficult because viewer cannot touch it. Images help to bridge the gap.
♦  Colors, consistency and creative images help a website to tell a story and let anyone understand what you are talking about.
♦  You do not have to broadcast in television – if you use images carefully in your website, it can sell an ideal, say the ideal of healthy, peaceful lifestyle too. Clear image is a convenient way of selling from a distance.
Step 4: Further development for system integration
We choose an appropriate web platforms – Web Building Platform and Content Management System with you and our application development team will support the further development of your website. You can integrate your website with CRM System, on-line shopping system and even the Enterprise Resources Planning System.