Retailing Point of Sales System
Easy to use and learn, just like your Android phone ! Quick installation and quick use
The reason for using the free open source Android™ provided by Google is because it supports mobile phones and tablets, and is more cost-effective. It is not necessary to update the operating system version. With the continuous development of Android™ technology, you can save data through our dedicated cloud hosting service and use big data for analysis to gain an in-depth understanding of your customer habits, thereby helping to improve your marketing strategy.
Golden Mean POS system user interface design not only has perfect artistic and complete conditions, but also reflects our commitment to the system's simplicity and ease of use. In addition to the POS system, it can also cooperate with customers self-ordering and employees' aap, all Flexible and easy to use, giving full play to the true qualities of Android.
In addition, with our years of experience in the catering and retail industries, the functions are designed from the perspective of users' opinions and ease of use. It also provides automatic integration of credit card, Octopus, Wechat Pay, Alipay and other payment methods.
[Golden Mean™ Main Functions]
With inventory management

With membership function, different membership levels can enjoy different discounts

Update products and prices through the cloud background system

Each product can be preset with quotas and different prices

All products can be scanned by QR code

Smart cash exchange

Can be interfaced with Octopus Can be interfaced with Visa, Master, AE, Apple pay, WeChat Pay, Alipay, Samsung pay, etc.

Can interface with the brand reward program system

Can interface with ERP system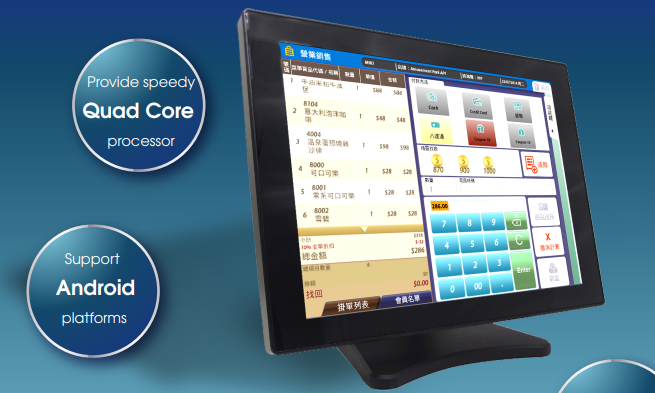 15" POS terminal with adjustable color touch screen
• Fanless and ultra-thin panel design
• Made of aluminum frame and durable metal back cover
• The cable is covered, easy to clean and tidy.
• Support Android platform.
• Supports PCAP touch and multi-touch
• Supports 100mm x 100mm VESA installation
• Uses built-in eMMC hard drive
• Comes with a sturdy and elegant serrated metal bracket< /span>
Let us share our customer experience! Solution-POS case study
Golden Mean™ retail version function table