Mita Seimen 三田製麺所has more than 20 restaurants in Japan and 4 in Taiwan. In Hong Kong they have just opened their flagship restaurant in 2015 Feb 11. To meet the high expectation for food and service quality, they use Casio booklet handheld for ordering.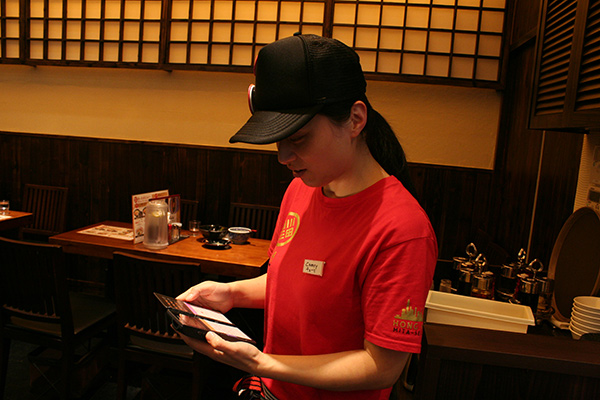 "The ordering system is incredible and simple to use. I don't have to memorise everything because all screen and button is clear enough. Even other staff told me that taking order with any hand writing and paper is no worry for making mistakes at all" Told by the senior staff Chery of 三田製麺所.
In Japan, we use the handheld for ordering for all our 19 branches because it can avoid mistakes from handwriting and shorten the time to input the order in POS system again.
In Hong Kong, we find the labor shortage for F&B industry to be very serious and staff turnover to be quick. The training time for new staff should be made as short as possible. We choose the Casio handheld system because it addresses our issues and is very easy to operate.
Besides the Casio handheld device, the reason for Mita Seimen to choose this POS system because every sales transaction will be replicated to the Cloud server immediately and their Japan office can analyze it quickly. Not only it helps them understand customer behavior, it also gives them better control of material order from Japan."
【Brief Translation from Japanese article for the interview of 三田製麺所 in March 2015】
Advantages:
Even first-time users can operate the system with confidence, and improves work efficiency naturally and rapidly.
Once orders are placed by the handheld, all items will be printed to pre-set printer accordingly.
No Wifi or 3G connection is required, data is transmitted using the 430MHz band, which is subject to little interference from microwave ovens. Worry free operation is ensured.
Staff can focus on customer service with no distraction from ordering operation. They could grow the business with improved services.
Simple switching between daytime and evening menus by replacing pages.
Shock-resistant, splash proof design – the handheld terminal is dust and splash proof – meeting the IP54 international standard, and its shock resistance can withstand dropping from a height of 1.6 meters.