Golden Mean™ POS System and mobile app
Golden Mean POS System is the first Android™ based product to be introduced specifically for the hospitality and retail industry.
The reason for using liberal open source license Android™ offered from Google is because it supports faster and more cost effective applications development. As the technology of Android™ continues to advance, you can enhance your business productivity on the go with cloud storage and collaborative platform by our Cloud Dedicated Hosting Services. 
The Golden Raito- the User Interface design is not only the condition for beauty and completeness in nature and art, it vividly captures our commitment for system integration and ease of use.
Moreover, with our experience in the hospitality and retail industry, the interfaces and the functions are designed from the user's point of view.
Besides POS system, Golden Mean Kiosk System that allow customers to experience the interactive order and payment.
Let's share our customer experience! Solution-POS Case study
Casio VR100 all-in-one POS terminal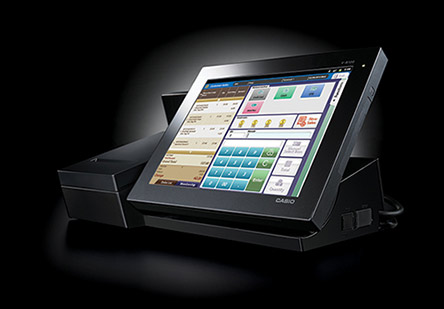 Casio today announced the release of its new POS product, the VR-100. The VR-100 will be exhibited in Casio's booth (#420) during the RetailNOW at the Mandalay Bay Resort & Casino in Las Vegas July 29 – August 1, 2012.
The VR-100 is the first Android based product to be introduced specifically for the POS industry. The VR-100 is equipped with a 10.4" adjustable color touch screen, an attached high speed thermal printer, Ethernet port, serial ports and a built-in swivel 2X20 customer display. A software development kit (SDK) can be used to develop custom applications that enable the cash register to be easily integrated into existing structures for the Retail, Hospitality sector and other service providers.
The main features for All in One Casio VR100 (VR200):
Especially for environmentally friendly design. Requiring only 20watts on full power and 4.1 watts in standby mode. Save over 85% power compare with PC based system.
Smartly engineered hardware platform. 10.4" inch SVGA colour LCD adjustable colour touch screen with an attached high speed thermal printer and a built-in swivel 2X20 letters (32X160 dots) customer display.
No costly licensing fees of the leading operating system on smart phone-Android™
Water-resistant & durable: The terminal conforms to the IPX2 drip-resistance standard which is dripping water at an angle up to 15 degrees from vertical has no harmful effect. Not only for retail, especially suitable for restaurant and bar.
Reduces operator time and effort by quickly producing receipts. A thermal printer with a user-friendly design that ensures trouble-free cash register operation in any store location.
Excellent system stability, including rapid fault recovery. The terminal has no hard disk, even if there is a sudden disruption in power supply, data is saved and reflected when the system is restarted. The system is highly robust and capable of rapid recovery even if it goes in a power outage.
External Casio Booklet Handy System for greater operating Efficiency. The compatible Ordering System that realize efficient purchase ordering. The terminal also has a memory card slot for storage of sales data on SD memory cards.
The special features of POS and mobile ordering app: 
Separate help functions: 1) calling waiter for help and 2) calling waiter for billing
Clear and simple introduction for Help manual
User-friendly operation flow
Customers can check the placed order anytime
Customer Relationship Management System can be integrated, customers can apply for membership immediately
Interactive games can be provided for customers (e.g. lucky draw)
Survey for customers to comment on food and services that compliments with your marketing strategies and boost sales revenues

Integrated with SmartPOS A8, customer can enjoy the exclusive VIP services "Pay at the table" . No more waiting for the check, credit card slip or waiting for a staff to bring a bill or receipt to the table. 
Function List for Golden Mean™ Retail Version