Handheld with physical keyboard and No Wi-Fi
Easily operated multi-page touch keys ensure simple and quick operation.
 Simple One-Key-One-Item Operation
The system realizes simple one-key-one-item operation by booklet type pages. It is possible to set 192 items using ordinary key and up to 384 items using shift key. The superb operability and ease of use offered by booklet-type handheld terminals promotes work efficiency and contributes to service improvements and restaurant reputation.
Highly Legible LCD Screen
The easily readable LCD screen supports comfortable operation, including order details, operation guide, and simple menu change.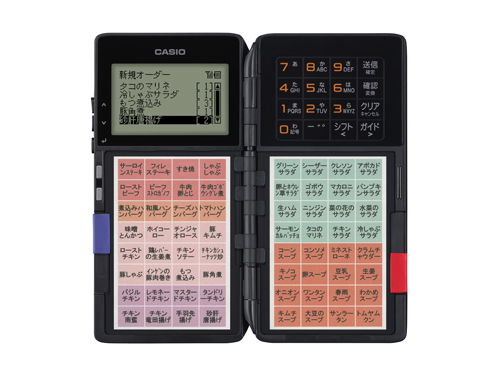 Use of Large Buttons for Popular Menu Items
For instance, combine four keys for configuration as a single button. For added convenience, prepare large buttons for popular menu items. Use of photos is also possible.
Antimicrobial Treatment Contributes to Sanitation
The handheld terminal case is treated using an antibacterial agent evaluated using the ISO 22196 method. The antimicrobial treatment contributes to sanitary use.
Simple Switching Between Daytime and Evening Menus
Switching between a lunch menu and dinner menu is as simple as replacing pages. A convenient replacement booklet (QF-12BM) is available as an option.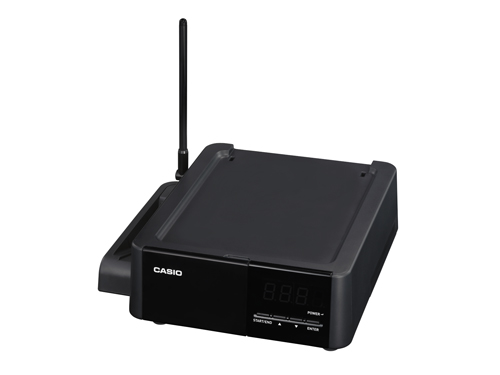 WiFi is not needed!
430 MHz Band Wireless Transmission to Resist Interference from Electronic Devices
To ensure worry-free operation, order data is transmitted using the 430 MHz band, which is subject to little interference from microwave ovens or other electronic devices.
For further information, please watch our demonstration: